Come Celebrate at Our Spring Beauty Event for 2018!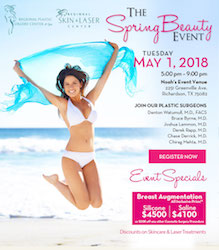 Regional Plastic Surgery Center and Regional Skin & Laser Center are excited to announce that we will be hosting our annual Spring Beauty Event on Tuesday, May 1st, 2018, from 5:00 pm to 9:00 pm at Noah's Event Venue in Richardson.
All six of our plastic surgeons will be in attendance, including our two newest physicians, Dr. Chase Derrick and Dr. Chirag Mehta. They will be greeting and mingling with all attendees throughout the night. We will be serving light food and refreshments while you enjoy chatting with other guests, listening to Dr. Watumull and Dr. Byrne share their expertise on specific cosmetic procedures, and watching live presentations on some of the treatments we offer.
Live AcuPulse and FemTouch Presentations!
At Regional Skin & Laser Center, we are now offering amazing laser treatments using our new AcuPulse Duo CO2 Laser system. The AcuPulse laser is incredibly versatile and comes with a number of amazing attachments that can be used to treat a wide variety of issues. The AcuPulse laser can be used to treat sun damage, deep lines, acne scars, hyperpigmentation, and many skin-texture issues.
FemTouch is a special attachment that can be used to transform the AcuPulse Laser system into a highly effective laser vaginal-rejuvenation system. The FemTouch Laser stimulates the production of collagen in the vaginal tissue and helps to tighten and strengthen the tissue. This incredible treatment makes improving your vaginal health quick and comfortable.
Join Laura Harris, LE, and Vaunda Hickman, RN, CANS, for a presentation on the AcuPulse and FemTouch treatments we are now offering at Regional Skin & Laser Center. They will be thoroughly explaining how the treatments work and can answer any questions you may have.
Amazing Deals!
During our Spring Beauty Event, we will be offering a number of amazing deals on surgical and non-surgical treatments. Our event specials will include:
Breast Augmentation (For AMAZING prices see SpringBeautyEvent.com!)
30% off all skincare products and makeup
$12 per Unit of Botox
The doctors will administer Botox injections during our Spring Beauty Event, but appointments are limited! You can request a Botox appointment when you register for the event at SpringBeautyEvent.com. You will be able to choose the time for your appointment and the doctor who administers the injection once you register online.
Incredible Discounts!
Attendees will be eligible to receive a number of discounts on the treatments we offer and the products we sell. Discount packages will be offered on:
FemTouch
AcuPulse DUO CO2 Laser
Fraxel
Thermage
Liposonix
SkinPen
Laser Hair Removal
PRP/PRFM
Juvederm
Juvederm Voluma
Kybella
Restylane
We will also be raffling off thousands of dollars' worth of prizes throughout the night. Raffle prizes include skincare packages, laser-treatment specials, Botox treatments, and Juvederm treatments. Discount certificates will be given to the first 50 guests to arrive. You can use these discount certificates on cosmetic surgery and the spa services we offer.
Make sure to register online today to secure your Botox appointment, and make sure you show up early to be one of the lucky 50 who receive a discount certificate.
The event is free but we would like you to register at SpringBeautyEvent.com so that we have enough food and drinks for everyone!