It's That Time of Year! Our 2019 Spring Beauty Event Is Finally Here!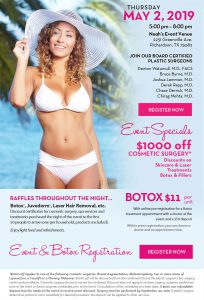 Spring is in the air! The days are warming up, flowers are starting to bloom, and the air is feeling refreshing and cool. It can only mean one thing: Regional Skin and Laser Center's Spring Beauty Event is almost here!
On May 2nd, join our amazing team of board-certified plastic surgeons and medical professionals for an evening of all-out fun, refreshments, and informative presentations where we will be giving out and raffling off some amazing treatments, discounts, and products.
Our Spring Beauty Event will take place on Thursday, May 2nd, 2019, from 5:00 PM to 8:00 PM at Noah's Event Venue in Richardson! In addition to a variety of giveaways and raffles, we will be offering discounts on BOTOX® Cosmetic and fillers, spa services, laser treatments, and other non-surgical treatments purchased that night.
Regional Skin and Laser Center's aesthetic nurse injector Vaunda Hickman will also be available throughout the night to answer any questions you may have about the treatments we offer.
Space for the event runs out quickly, so make sure to register online to reserve your place. When you register online, you will also have the opportunity to request a BOTOX Cosmetic appointment performed by one of our plastic surgeons during the event for the amazing price of $11 per unit. These appointments fill up fast, so make sure to register right away.
You can also receive a 30% discount on all skin-care products and makeup by calling 972-470-5012 by Monday, April 29th. Your purchases can be picked up on the day of the event.
Our entire team at Regional Skin and Laser Center is looking forward to seeing all of you at our 2019 Spring Beauty Event! As an added bonus, the first 50 people to arrive will receive valuable discount certificates that can be applied to cosmetic surgery and aesthetic treatments (limit one per household)! Make sure to register today!
If you have any additional questions about the event or would like to schedule an appointment, contact our office today to speak with a member of our team.