Introducing Jamee Massei, Our New Licensed Esthetician and Senior Laser Technician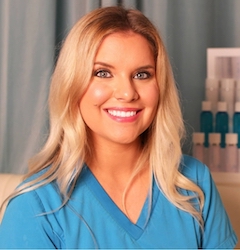 At Regional Skin and Laser Center, we believe that the key to providing amazing care and results for our clients is to have a dedicated and passionate team comprised of experienced and knowledgeable professionals. That is why we are excited to announce that Jamee Massei, LE, SLT has joined our team!
Jamee is a state-licensed esthetician and senior laser technician. She began her career in the field of aesthetics in 2008 and has continually trained, studied, and practiced in order to hone her skills. Her areas of expertise include laser treatments, microneedling, chemical peels, and facials.
Jamee has a diverse and in-depth understanding of skincare products and can make excellent product recommendations for addressing specific skin concerns. She can also help formulate personalized skincare routines for comprehensive care. Jamee takes a personal approach to her profession and enjoys building a relationship with each client and helping them throughout their skincare journey.
If you have skin concerns or issues that require professional care to properly address, contact Regional Skin and Laser Center today to schedule a consultation. Jamee and the other members of our amazing team can provide you with the customized skincare solutions you need.
If you would like to schedule a consultation, contact our office.