Are Microblading and Permanent Makeup the Same Thing?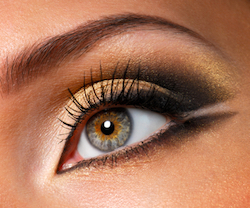 Modern style of golden-brown make-up. Beautiful woman eyes[/caption]It can be easy to confuse two unique types of treatments when the simplified descriptions of them seem so similar. Permanent makeup and microblading are an excellent example of this. While the two treatments may share some similarities, it's important to know the specifics of each treatment to ensure that you get the results you're looking for.
What Is Permanent Makeup?
Being able to change up your look for the season or add an extra little flair to your face for a special get together is great, but there are also certain basic aspects of your look that are essential. Having to apply makeup every day just to get your base look down can be tedious and time consuming. Permanent makeup offers a way to effortlessly maintain the perfect eyeliner, lips, and eyebrows.
With permanent makeup, a special pigment is injected into the dermis layer of the skin. The process is similar to a regular tattoo, which involves the use of a fine oscillating needle, but the pigment is not injected as deeply and the treatment is much gentler.
The pigments are long-lasting, which means that your permanent makeup should be noticeable for around five to seven years. Touch-ups can help to keep the color of the makeup vibrant during this time. Eyebrows typically only last for around two years.
What Is Microblading?
Microblading is an aesthetic treatment specifically designed to enhance the appearance of the eyebrows. A lot of people either naturally don't have as many eyebrow hairs or have lost a good amount of their eyebrow hairs as a result of aging.
Microblading is a form of cosmetic tattooing, but the process is significantly different. Microblading still involves placing a special pigment underneath the skin, but the pigment is not placed as deep as it is with permanent makeup.
Additionally, when inserting the pigment into the skin, a special tool is used to etch a thin line of pigment that resembles natural eyebrow hairs. This creates a more realistic appearance that seamlessly blends the etched lines with the natural hairs of the eyebrow. However, microblading requires annual touch-ups.
If you are unhappy with the appearance of your eyebrows, contact Regional Skin and Laser Center today to schedule a consultation. We can discuss the benefits of both permanent makeup and microblading to help you find your best option.