Give Your Skin the Care It Needs with the AcuPulse Fractional CO2 Laser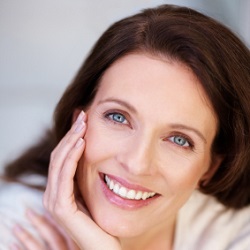 Closeup portrait of a pretty middle aged woman touching her face[/caption]The toughest thing about maintaining the health and beauty of your skin is that multiple skin issues can occur at once. Most people find themselves dealing with several different skin issues, which makes treating them very difficult. Some issues might flare up and demand more attention, and others issues can form just as soon as you think you have everything under control.
How do you gain control over the way your skin looks? The best way is to find a treatment that provides comprehensive and thorough care. At the Regional Skin and Laser Center, we can provide this level of care using the AcuPulse fractional CO2 laser.
What makes the AcuPulse fractional CO2 laser so effective is its approach to skin rejuvenation. The laser uses an ablative resurfacing system that effectively improves the structure of the skin's surface and strengthens the underlying layers of skin.
As the laser passes over the skin, it stimulates the skin-renewal process, which allows healthy new skin to form on the face. This helps to restructure the skin's surface and make it smoother, tighter, and more attractive.
The laser energy also stimulates collagen production within the layers of skin. This helps to strengthen the skin and make it more elastic. The energy emitted by the laser is precisely controlled and does not cause damage to any surrounding tissue.
The AcuPulse fractional CO2 laser is perfect for treating:
Poor skin texture
Uneven skin tone
Fine lines
Deep wrinkles
Acne scars
Sun-damaged skin
Dark spots
At the Regional Skin and Laser Center, we are currently offering a 15% discount on a package of two AcuPulse facial treatments. This amazing special will make it easy to give your skin the care it needs. Contact our office today to schedule an appointment.