How Can I Get Fuller Lips Without Surgery?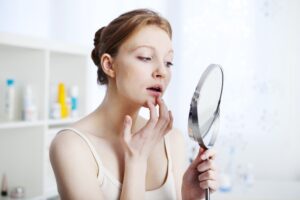 Kick your confidence up a notch with full, voluminous lips. For many, naturally thin lips or ones that have lost volume can be addressed with injectable treatments. Whether you're looking for a more youthful image or contoured lip shape, non-surgical options such as dermal fillers can give your lips a fuller, softer appearance for an enhanced look. At our med-spa, high-quality fillers can be injected to:
Provide added volume and enhancement
Define and contour lip shape
Smooth lines around the mouth
When it comes to your specific needs or concerns, we offer multiple non-surgical lip treatments designed to give you temporary augmentation and improvements. These minimally invasive options generally require less recovery time (and often no recovery time at all) than extensive surgeries and aim to provide you with the aesthetic results you're looking for.
JUVÉDERM®
JUVÉDERM® products incorporate hyaluronic acid-based gel formulations that can give you plumper lips. Injected into and around your lips, this augmentation can create volume and smooth the appearance of lines around your mouth. The longevity of JUVÉDERM® results varies upon the specific product, with the effects of JUVÉDERM® Ultra generally lasting up to a year and those of JUVÉDERM® VOLBELLA® potentially lasting up to 18 months.
Restylane®
Restylane® products feature clear-gel formulations that add fullness to your lips and target lines around your mouth. From naturally thin lips to those that have lost volume over time, this cosmetic treatment can create a plumper, more enhanced look. Typically, effects can last six to 12 months.
If you have any questions about dermal fillers and non-surgical lip augmentations, contact us for more information.