Save 20% on Your Liposonix Treatment This September!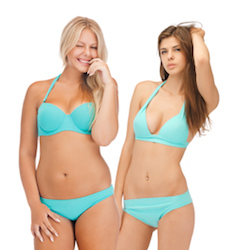 Are you struggling to lose those last couple of inches of body fat that are keeping you from attaining your ideal figure? If all you need to do is lose a couple of inches around your waist, the idea of undergoing procedures like liposuction may seem like too dramatic of a choice. The recovery time associated with surgical options makes these procedures even less appealing.
If you are looking for a non-surgical and highly effective way to permanently eliminate your excess body fat, you can find the results you are looking for with Liposonix ultrasound fat reduction.
During treatment, high-intensity focused ultrasound energy safely passes through the skin and targets the fat cells in the waist, where it destroys fat cells to create a slimmer and more curvaceous waistline. Liposonix can also stimulate the production of collagen, which can provide mild skin tightening.
On average, individuals treated with Liposonix lose one inch around their waistline after just one treatment, making it the ideal option for those struggling to lose just a few pounds of excess body fat.
Treatments with Liposonix only take one hour, and over the next eight to twelve weeks, the targeted fat cells will be naturally expelled by the body. After those twelve weeks, your waist will have a noticeably slimmer appearance with improved contours.
Throughout the month of September, Regional Skin and Laser Center will be offering a 20% discount on Liposonix treatments so that all of our patients can have the beautifully contoured waist they want at a price that works for them. Contact Regional Skin and Laser Center today to take advantage of our September Liposonix special.