December Special: Save 30% on Laser Hair Removal Packages This Holiday Season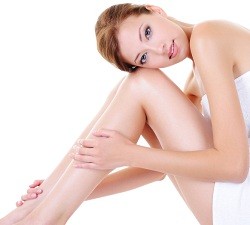 Pretty adult girl with perfect legs – isolated on white[/caption]Let's be honest: Removing unwanted body hair is a frustrating, time-consuming, and often painful chore. Many of us have to remove these hairs multiple times throughout the week. Whether you are shaving, plucking, waxing, or using depilatory creams, hair removal is just not a process you want to have to repeat.
If you're done with razor burn, ingrown hairs, irritation, and the constant need to hunt down pesky body hair, our team at Regional Skin and Laser Center has the solution you need. Laser hair removal has taken all the fuss out of body hair maintenance and has made having silky smooth and hair-free skin a quick and simple process.
Laser hair removal works by using precisely calibrated waves of laser energy to target and destroy unwanted hair follicles. Once the hair follicle has been ruptured, hair will be unable to grow in the area for a long period of time, which means you won't have to waste your time awkwardly holding a mirror to get a glimpse of hard-to-see areas of your body.
Multiple treatments may be required to achieve the full results you are looking for, depending on the color of your hair, your skin type, and other factors. Throughout the month of December, Regional Skin and Laser Center will be offering a 30% discount on laser hair removal packages so that you can achieve your desired results at a price that works for you.
Contact Regional Skin and Laser Center today to take advantage of this amazing special and give yourself the gift of smooth, beautiful, and hair-free skin this holiday season.