August Special: Reduced-Price Restylane Injection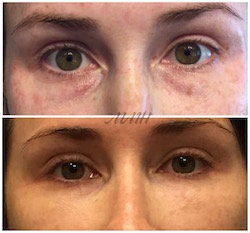 For the month of August, Regional Skin and Laser Center has reduced the price of a Restylane injection by $50, offering a single treatment at a cost of only $550(1 syringe). A Restylane injection has lasting benefits and can improve your appearance for months at a time.
Restylane is an injectable skin filler that provides volume to reduce the appearance of aging. It can dramatically diminish the appearance of dark-colored circles and deep tear troughs under the eyes to address a constantly sleepy appearance. After a Restylane injection, the skin looks more vibrant and youthful.
Not only does Restylane treat dark circles and tear troughs, it's also an excellent way to reduce age lines. Marionette lines, the nasolabial folds, smoker's lines, dropping mouth corners, and more can all be treated and diminished with a Restylane injection.
The transformative effects of a Restylane treatment are clearly illustrated in the accompanying Before and After photos of a real patient, Michelle. The reduction in tired-looking dark circles beneath her eyes after receiving an injection is simply striking in comparison.
Restylane injections at Regional Skin and Laser Center are professionally administered with extraordinary care by Michelle Malpica-Hertsgaard, RN, CNI, CLO. Our trained staff is available to help answer any of your questions and ensure that a Restylane procedure will meet your facial skin care needs.
This special offer is currently only available for the month of August, so while there's still time! To set up an informative consultation and find out if you can benefit from a Restylane treatment, contact our office at your earliest convenience.