August Special: Dermaplaning Sessions for Less!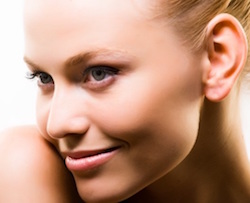 Even after removing unsightly dark hairs with laser hair removal treatments, unwelcome "peach fuzz" may still remain on the surface of the face. Dermaplaning is a convenient and non-invasive cosmetic procedure that removes the short, light-colored hairs that other treatments may miss.
Dermaplaning also softly exfoliates the face, allowing the skin to absorb facial care products like anti-aging creams, cleansers, and moisturizers much more thoroughly. Smoother, healthier-looking skin is boldly highlighted after a dermaplaning procedure, revealing a more youthful and rejuvenated appearance.
For the month of August, Regional Skin and Laser Center is currently offering three dermaplaning sessions for only $250 – a savings of $50 from the regular price of the procedure! At the end of a rejuvenating dermaplaning session, patients will be prepared for a glycolic peel that will be left on for about three minutes.
A glycolic peel compliments dermaplaning by providing additional exfoliation, opening clogged pores, and smoothing out roughly textured skin. The treatment is a light-grade peel and will clear up the surface of the face without irritating the skin.
Laura Harris, L.E., is available to discuss the benefits of dermaplaning and answer any questions you may have about the treatment. If dermaplaning is right for you, we will find a convenient time to schedule your sessions and she will personally perform the treatments.
Interested in taking advantage of our August dermaplaning special of three treatments for $250? Contact our office and request a personal consultation for a dermaplaning procedure at Regional Skin and Laser Center today.