Skin Cancer Awareness and Practicing Sun Safety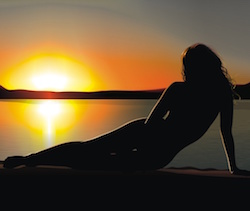 May was National Skin Cancer Awareness Month, a time to spread information on the most common type of cancer that will affect one out of every five Americans within in their lifetime.
Awareness is important. Informing others on how to properly protect themselves from the sun (and which signs and symptoms to look out for) has a major positive impact on the reduction and prevention of skin cancer cases.
In fact, sun safety awareness is incredibly important, because UV radiation from the sun is a common factor in a majority of diagnosed skin cancer cases. The National Council on Skin Cancer Prevention even declared May 26th, 2017, as "Don't Fry Day" as a way to promote better sun safety.
When it comes to protecting your skin from the sun, simply applying sunscreen can be very effective. However, not all sunscreens are created equally. The main thing you should be looking for is a sunscreen with an SPF of 30 or higher.
It is also important to look for the words "broad spectrum" on the product. This indicates that the sunscreen can protect the skin from both UVA and UVB radiation. If your sunscreen has an SPF of 30 or higher and offers broad-spectrum coverage, it will protect your skin from skin cancer, sunburns, and premature aging due to sun exposure.
With summer rapidly approaching, Regional Skin & Laser Center is adamant about doing our part to promote proper sun safety. Throughout the month of June, we will be offering a 15% discount on all of our sunscreens.
All of our sunscreens offer broad-spectrum coverage and an SPF of 30 or more. The brands we offer include ZO Skin Health, Eraclea, PCA, Elta, and Revision Skin Care.
We will also be offering a 15% discount on select tinted primers with SPF protection. The list includes:
Glo minerals' GloFace Tinted Primer
Glo minerals' Protection Powder SPF
Elta's UV SPF 46 Tinted Primer
Revision Skin Care's Intellishade SPF 45
ZO Skin Health's Oclipse Smart Tone
Remember that proper sun safety is something you should practice on a daily basis, whether it be gloomy or sunny outside.
If you are interested in our sunscreen special, or if you would like to schedule a consultation to learn more about what Regional Skin & Laser Center can do to improve the health and appearance of your skin, please contact us at (972) 470-5012.