Liposonix Can Give You a Slimmer and Shapelier Body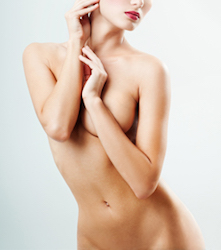 Sometimes, it can take more than diet and exercise to finally have the curvaceous and toned body you have always wanted. When small areas of the body have even a minimal amount of excess fat, it can diminish the contours and appeal of your figure. There is no treatment that rivals the custom contouring abilities of Liposonix.
Liposonix is a non-invasive fat-reduction and body-contouring procedure that utilizes the power of high-intensity focused ultrasound (HIFU) technology. The HIFU penetrates deep into the body, where it is concentrated in one area to produce a precise zone of heat that targets and destroys the fat cells in the area. The system and technology used can be precisely controlled to provide consistent treatment in the area and to prevent any damage in other areas of the body. The treatment has been proven to be incredibly effective at eliminating fat in the abdomen, waist, and flanks.
Some of the most appealing aspects of Liposonix are how quick, easy, and effective the treatment is. Liposonix prides itself on delivering the 1:1:1 – one treatment, one hour, one size down. That is an average of one inch in waistline reduction. Liposonix can give you a more-toned and attractive body with no recovery time and without putting your body and health at risk.
Regional Skin & Laser Center strives to provide procedures that have been proven to deliver fantastic results that satisfy the individual needs of our patients. Liposonix has proven to be a highly effective procedure that delivers noticeable results almost instantly. Click here for more information. Contact us to schedule an appointment for your Liposonix treatment.