Fraxel® Laser Skin Resurfacing
Fraxel® laser skin resurfacing is a procedure used for the treatment of acne scars, wrinkles, rough skin texture, aging skin, and fine lines. This innovative technique offers improved efficiency and a gentler approach than that of other laser treatments.
Unlike laser treatments of the past, Fraxel offers noticeable improvements within a week with minimum downtime. Fraxel treatment works best for patients with marginally healthy skin with fine wrinkles and/or moderate acne scarring.
The Science Behind Fraxel®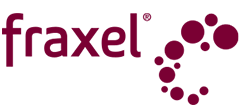 Fraxel works using the sophisticated approach of inducing fractional micro-injuries in the skin. Fraxel uses a micro-pixelated approach to create smaller regions of injury – zones of 1,000 to 2,000 microthermal regions are created in a limited space of 1 square centimeter. Old skin is ablated, making way for the generation of new layers of skin cells.
The damage created by the laser energy stimulates a restorative healing response from the skin. The natural healing response catalyzes the production of collagen in isolated micro environments. As the skin repairs itself, this creates improvements in its appearance.
The Fraxel® Procedure
Before laser irradiation, the skin's surface is thoroughly cleaned. A topical local desensitizing cream is evenly applied to the targeted region. After an hour, when the cream begins to take effect, depending on the generation of the Fraxel laser used, a blue dye will be applied; second-generation Fraxel technology does not require the application of the dye.
The patient is transported to the laser room and then a thin layer of conductive gel is applied on the targeted region. Again, depending on the technology in use, the gel may not be applied (as in the case of Fraxel® DUAL). Laser energy is then applied to the marked region. The procedure may take up to an hour depending on the size of area.
The Expected Results of Fraxel® Treatment
Dramatic visible  results are noticed soon after the treatment. Treated skin appears fresher and clearer, with improvements in both tone and texture. A few patients may require multiple treatments to achieve their desired results.
Results continue to improve as the new collagen protein forms, and optimal improvement is visible 60 to 90 days after treatment. Specifically, wrinkles are reduced, pore size becomes smaller, brown spots are removed, and pre-cancerous lesions (actinic keratoses) are effectively treated.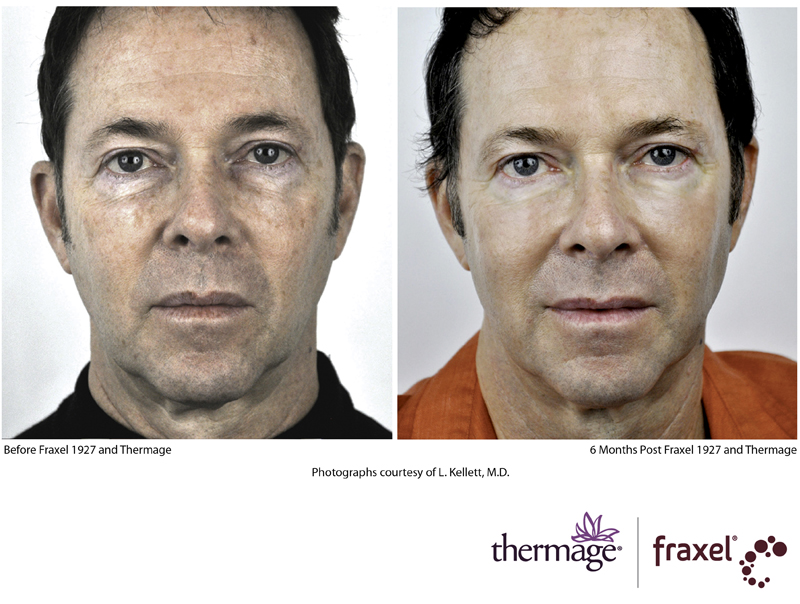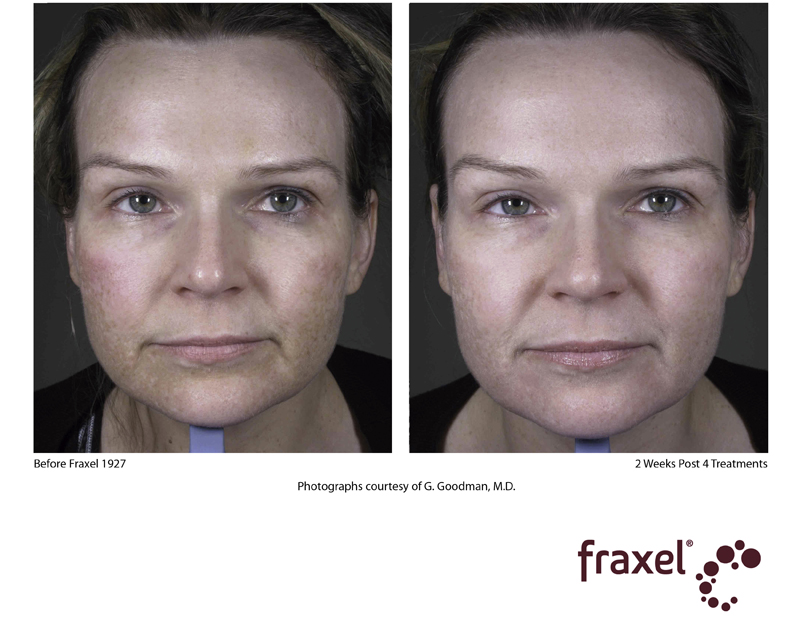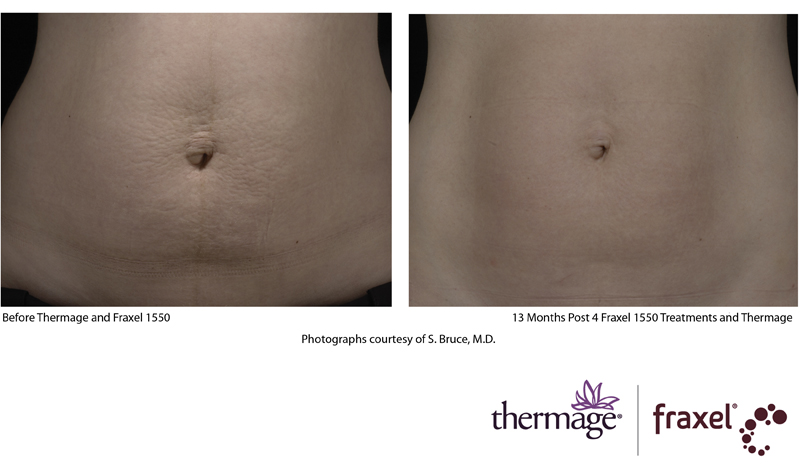 Are You a Good Candidate for Fraxel®?
Fraxel is not an effective solution for targeted pigment removal, so if you need one spot corrected on your forehead, this is not for you; it is best used for correction of irregularities on a larger skin surface like the body, entire face, chest, and hands.
While most patients seeking this treatment are good candidates for it, there are four exceptions:
Patients who are prone to excessive scarring and keloid formation
Patients who are suffering from fungal, bacterial, and viral infections
Patients who are under treatment with isotretinoin acne treatment or similar drugs
Patients who are currently taking a systemic steroid medication such as dexamethasone or prednisone
If you are not a good candidate for Fraxel®, we offer a number of other skin rejuvenation and laser treatments that may be better suited to your unique skin type, needs, and goals.
Recovery from Fraxel®
Immediately after your procedure, there may be a slight degree of swelling and redness. Women who undergo the treatment are advised to avoid heavy makeup for 72 hours after treatment. Direct sunlight and use of harsh skin products must be avoided for a minimum of 10 days.
Arranging an Appointment
Schedule an appointment for a Fraxel laser skin resurfacing consultation by contacting Regional Skin & Laser Center today.