Getting Your Body Swimsuit Ready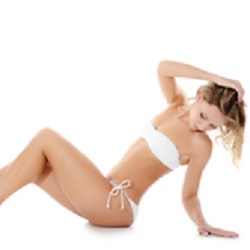 With swimsuit season on the horizon, it's about time to start getting your body ready to show off in the sun. You've been watching what you eat since the holidays ended and your body is looking tight, toned, and ready. There's only one thing preventing you from looking stunning: all that unwanted body hair.
Both men and women have unwanted body hair. Unsightly hairs can sprout up in larger areas like the back and chest and on smaller and more sensitive areas like the upper lip, hands, and the top of the ears.
Shaving can temporarily reduce the problem, but that constant maintenance can be incredibly taxing and tedious, and some may find that the pain or irritation they experience from shaving is too much.
If you want to go beyond maintenance and find a long-term solution to your unwanted hair problem, then the LightSheer permanent hair-reduction system is your ideal solution. LightSheer laser hair removal makes achieving smooth skin quick, easy, and painless.
This non-invasive option uses highly focused laser energy to permanently destroy hair follicles without doing any harm to the surrounding tissue. The treatment can also help to remove razor bumps, a very common skin issue that can leave your skin looking and feeling irritated. With LightSheer laser hair removal, you can get rid of those razor bumps and then never have to worry about shaving there again.
Contact Regional Skin & Laser Center at 972 470-5012 to schedule a consultation for your laser hair-reduction treatment. Our highly experienced staff can provide you with the personalized care and treatment you need to get your body looking sexy, smooth, and ready for swimsuit season.