Liposonix® Fat Reduction

Liposonix® is a non-surgical treatment method used to permanently terminate fat cells while reducing the size of the waist. These features make Liposonix it an effective, non-invasive alternative to liposuction for many people looking to remove smaller quantities of fat. Liposonix technology was developed over a period of 10 years by leading scientists and ultrasound experts with more than 200 years of combined experience in the development of therapeutic and diagnostic ultrasound devices.
The general duration of the treatment is 60 minutes, but this usually depends on the patient's specific needs and the location of the targeted area. Liposonix is typically able to reduce the waist by one dress or pant size in terms of circumference, but this can vary according to the situation. The key focus of the Liposonix procedure is customized body contouring through elimination of fat, primarily in the abdomen and flank area.
We invite you to learn more about Liposonix by exploring the informational sections provided below, or by contacting our office.
How Does Liposonix® Work?
Using advanced, high-intensity-focused ultrasound (HIFU) technology to create a focal zone of heating, Liposonix penetrates and destroys fat found beneath the skin, resulting in a dual tissue response: thermal destruction of targeted fat cells and contraction/thickening of subcutaneous collagen. A unique pattern delivery system within the treatment head delivers the energy in a controlled, consistent manner. Targeted fat cells are permanently destroyed without harming the skin, and the body naturally processes and removes the fat tissue over a period of 8 to 12 weeks. For most patients, Liposonix can offer impressive results after a single session.
Am I a Good Candidate for Liposonix®?
Liposonix treatment is often an excellent option for women and men who want to reduce stubborn fat but do not wish to undergo surgery. If you can pinch an inch, you are most likely a candidate; however, there are treatment criteria to be met before coming in for the Liposonix procedure. Pregnant women, lactating women, and people suffering from a hernia are not a good fit for Liposonix treatment. Women of child-bearing age are also compulsorily tested for pregnancy before this procedure in order to avoid any complications. Additionally, the procedure is not meant for individuals with extreme skin laxity, and it is important to understand that Liposonix is not a means of weight reduction or a replacement for a healthy lifestyle.
How Is the Liposonix® Treatment Performed?
Liposonix uses the same ultrasound energy as the diagnostic ultrasound treatment you may be familiar with. During the procedure, the head of the Liposonix system is moved around the treatment region as the ultrasound energy that's emitted causes a thermal coagulation in the adipose (fat) tissue within the focal area of the beam. Once the adipocytes are destroyed, they become unable to store fat.
With Liposonix's Custom Contouring™ capabilities, physicians can choose from a variety of treatment patterns to customize each procedure to the specific curves and contours of the patient's body. The procedure isn't known to be particularly uncomfortable, but a slight tingling and pricking effect is common and completely normal.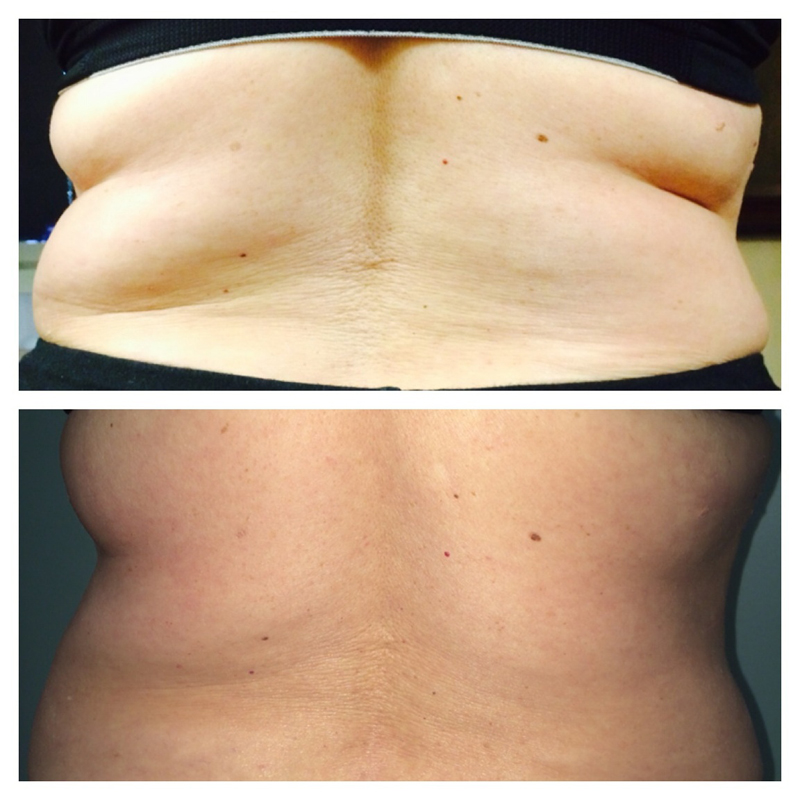 Is Recovery or Downtime Necessary After Liposonix®?
Extremely mild swelling and pain is normal during the course of healing, but because Liposonix is a non-surgical procedure, you do not have to deal with long periods of downtime. In fact, you will likely be able to return to your daily schedule immediately, as most patients do not feel the need to take time off of work.
What Liposonix® Results Can I Expect?
It typically takes eight to twelve weeks for the body to fully process and remove the destroyed fat tissues naturally. Once the body has eliminated the excess fat, a better-contoured waistline and slimmer, sleeker body is usually noticeable. Unlike surgical liposuction, Liposonix does not leave patients with loose, drooping skin.
The targeted fat cells are permanently destroyed, but surrounding fat cells can still grow as the result of caloric surplus. To maintain the excellent results of Liposonix treatment, you are advised to follow a healthy diet and lifestyle after the procedure.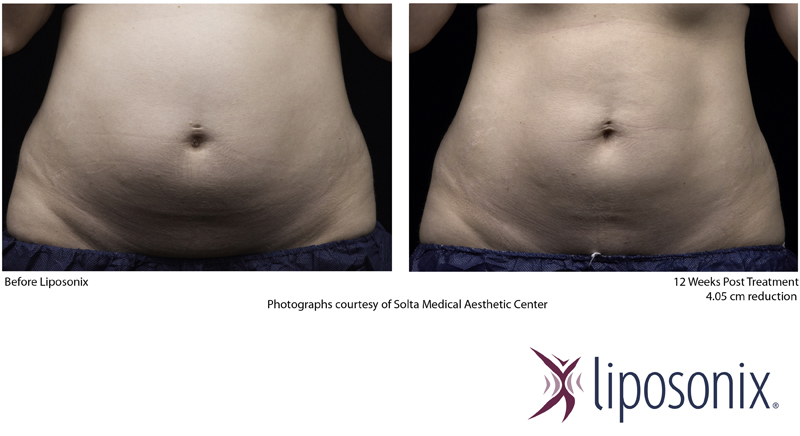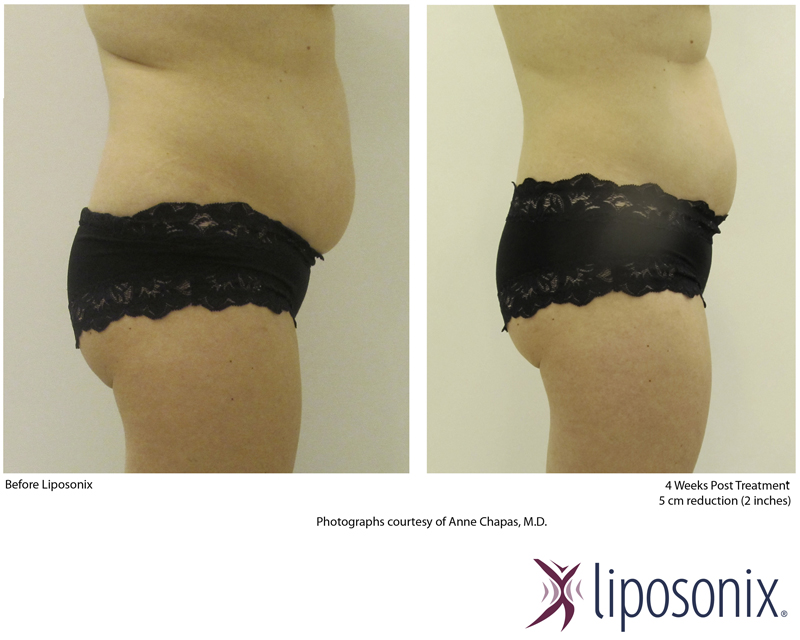 Is Liposonix® Safe?
Liposonix is generally considered a safe procedure, and when performed properly by an experienced provider, it is conducted without causing harm to the surrounding tissues, skin, or organs. The Liposonix system has more than a decade of research and testing behind its development, and the treatment has a well-defined safety profile—no hostile or unanticipated effects have been noticed, as there have been no signs of clinically important changes after treatment.
The most frequently reported side effects during treatment are warmth, cold, prickling, tingling, and slight discomfort. All are temporary and usually resolve shortly after the treatment. Post-treatment discomfort can include sensitivity, bruising, and swelling in the treatment area, though these effects are typically resolved within a couple of weeks.
Additional Liposonix® FAQs
Do I need to do anything special after my Liposonix® treatment?
There are typically no special requirements after Liposonix; however, post-treatment care is at the discretion of your healthcare professional. Most patients are informed they may resume regular activities right away. You may be advised to maintain (if not improve) the same diet and exercise routine you observed before treatment, but you don't generally need to change these things for the treatment to work.
How can I find out if Liposonix® is right for me?
Your healthcare professional can determine if the Liposonix treatment is right for you. During a consultation at Regional Skin & Laser Center, you can undergo a full evaluation and discuss your concerns with one of our experienced professionals. Following a review of your medical history and an examination of your midsection, you'll find out if Liposonix is a good fit for your needs.
Contact Our Office for a Liposonix® Consultation
Regional Skin & Laser Center provides Liposonix treatments and a variety of other cosmetic enhancement and rejuvenation procedures. Schedule a consultation by contacting our office today.